News
MEMBER OF THE MONTH STEAMBOAT: Van
Member of the Month: Van

Is it just Van? Yes just Van

Do you have any nick names? Nope just Van (hahaha)

Age: I'm 6!

Years Being a Club Kid: I have been coming since around Halloween

Favorite Club Program: I like the art room the best because you get to make things

Favorite Counselor, why: You (Ms. Colleen) because I don't know why.

Favorite Season: Christmas because of presents

Do you get people presents too? YES

Hobbies: I play soccer and I am a goofy person

Pets, names, what are they: I have a cat named Thomas. OH, and a fish.

What's your fish's name? Fish. My cat likes to drink from the fish bowl.

Is he trying to eat Fish? yes

Favorite movie, why: Trolls because trolls are funny.

And do you like how colorful the movie is? Yes very

Favorite Food: carrots. They are sweet and yummy

What I Love Most About BGC: I like the art room and I like to hang out with my cousin Madeline and other friends.

What do you like about Madeline? She is funny, fun, she is nice to me and she plays with me.

What is your favorite subject in school: Math. Why? Because you learn better the more know you know.
MEMBER OF THE MONTH- CRAIG: Kimber
Member of the Month: Kimber

Age: 9

Years Being a Club Kid: I have been coming for 3 years.

Favorite Club Program: Talking Trolls

Favorite Counselor: Ms. Toni

Favorite Season: Fall

Hobbies: Homework, reading, writing and learning new things.

Pets: I have a fish. 

Favorite book: Diary of a Wimpy Kid. 

Favorite Food: Hamburgers

Future Profession: Carpenter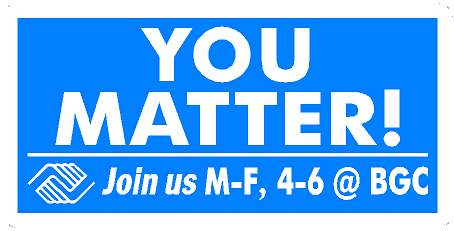 Beginning Monday, March 13th our middle school students in Steamboat Springs will be kicking off their "YOU MATTER" campaign. Leaders from the community will be joining with them as they hand out candy bars to ALL middle school students. The bars will be labeled with the sticker above, informing the students that they matter and inviting them to participate in this necessary and timely campaign.
Our middle school program, called "The Attic" is open to all 6th, 7th and 8th grade students. Open every day after school, the Attic is a fun and safe space where kids can hang out, do homework and participate in physical activity.
The "YOU MATTER" campaign is designed to help all youth feel accepted and safe and lower incidences of bullying. Join with us as we say to everyone, "YOU MATTER!"
PARTNER SPOTLIGHT
A very HUGE thank you goes out to our friends at Steamboat Resort who continue to support our work with the children in both Routt and Moffat counties.
For all that you have done and continue to do, we say THANK YOU!