Since 1947, Youth of the Year has been Boys & Girls Clubs of America's premier recognition program celebrating the extraordinary achievements of Club members.  Each year an exceptional young person from a Boys & Girls Club rises to the role of National Youth of the Year.  The National Youth serves as both an exemplary ambassador for the Boys & Girls Club youth and as a strong voice for our nation's young people.  
In Northwest Colorado we select one Youth of the Year from a pool of nominees to represent the success of the club aligning with our mission.  We are looking for a club member who is

realizing their full potential as productive, responsible and caring citizens with the help of the BGCNWC.  

This year we are proud to have 6 outstanding Youth of the Year nominees and on February 25th we will host a live broadcast from Craig Colorado.  The Youth of the Year program will include a State of the Club address from Dana Duran, 6 two minute speeches from our nominees about how the Club helped them become their best self. 
Each nominee will receive $2,500 to put towards furthering their education.  The will winner will receive $4,000 and represent the Boys & Girls Clubs of Northwest Colorado in the regional Youth of the Year event.  This scholarship is funded by our corporate sponsors and individuals and we are very appreciative. 
Zuzu
Steamboat Springs High School Senior
Years at Club: 9
I moved to Steamboat in 3rd grade and came to the Club to make friends. I have been coming since. The Club has inspired me to want to become a teacher. I currently work with the 3rd and 4th graders, the Manatees, and I love them a ton, they are such great kids. From the kids I have learned so much, like to not take things for granted and to have a lot of patience.
Ashley
Moffat County High School Junior
Years at the Club: 10
The Boys & Girls Club has always provided me and all kids a positive healthy environment. If someone needs help the staff will always step in and help in any way possible, they always do and always offer a solution to problems. When my father passed away everyone from the Club was there checking on me. When I needed help with school they were right there.
Mallory
Steamboat Springs High School Senior
Years at the Club:11
I love every single thing about the Boys & Girls Club, the kids, the environment and my mentors. I grew up here at the Club. The Boys & Girls Club has taught me to never give up, I have had amazing mentors who have always encouraged me to go for my goals and to have a positive attitude. Now that I work here, I encourage the kids.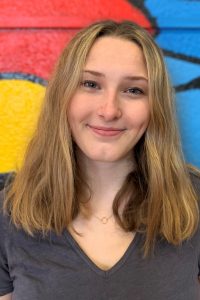 Daisy
Steamboat High School Senior
Years at the Club: 11
Everyone here is here to support each other. I was very shy as a child, I would only talk to my sister. At the Club we were in different groups which helped me grow out of my shell. It taught me to find my voice and stand up for myself. The Club has been a part of my life as long as I can remember. If the Club was not around I would not be the same person, I do not think I would have found my confidence.
Zoe
Steamboat Springs High School Senior
Years at the Club: 11
I remember loving the Club since the first time I walked in, it has always been so fun. The best part for me now as a staff member is the happy kids, the kids are resilient and they do not let the problems of today crowd who they are. I love the adult supportive staff who want to help and are good spirited. I love that I get to be a part of kids lives and that I get to have fun too. I am always happy to be here.
Julia
Moffat County Senior
Years at the Club 11
For me the Club has always been a fun, safe and positive environment for all of us. Having the Boys & Girls Club around for me when I was a kid impacted me for the better and has made me a better person. I hope that I can continue to grow inside the Club and become a more successful person.
Whatever It Takes To Build Great Futures.