grat.ti.tude;
n.
mid-15c., "good will," from Middle French gratitude (15c.) or directly from Medieval Latin gratitudinem (nominative gratitudo) "thankfulness," from Latin gratus "thankful, pleasing." Meaning "thankfulness" is from 1560s. *Dictionary.com
We live in an age where the art of practicing gratitude is too often overlooked or treated as an afterthought. As parents, educ
ators, and counselors we are constantly striving to help our children become more grateful for all that they have and focus less on what they do not. A great exercise to do with our kids is the filling of a "Gratitude Jar." Following a fat Thanksgiving feast seems like the perfect time to introduce this fun and fulfilling project to your family. Simply grab a few Mason jars while you are grabbing the fixings for your festivities. Label the jar and ask family members to write down one thing they are thankful for and place the paper inside the jar. Additions to the jars can be added at will, but in an effort to stay on track, I suggest picking one meal every week where kids are encouraged to add to the jar after reflecting on their week. Save all your gratitude for one year, and enjoy the yearly reveal after next year's Thanksgiving feast. This simple project is sure to bring back all sorts of memories both hilarious and heartbreaking, and they will help your family reflect and rejoice in the magic of family communion.
Be Grateful to Simply Be.
We are all thankful for the opportunity to shape the next generation, but too often we anguish over every little detail. This timely TED talk from Jennifer Senior urges us to worry less about making our children happy and focus on helping them grow. We won't always be happy, but we can always be grateful. Finding ways to be thankful and kind in the midst of frustration is a skill that will help all of us enjoy our time with each other. Perhaps you agree with Jennifer, perhaps you don't. Either way, we would love to hear your comments about the pursuit of parenting.
We Are Thankful For Each Other
Novem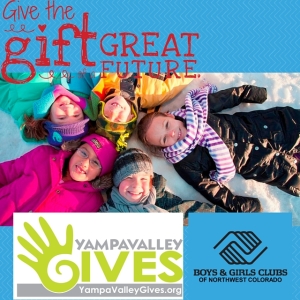 ber is the kick off for our Annual Campaign. This is the point in the year when we actively ask those in our community to help support the Clubs. Only 15% of our budget is met by Membership Dues and Fees. That is because we strive to keep our programming costs low for families. This means we rely on donations for the additional 85% of funds needed to operate throughout the year. You can donate through our website or donate on December 8th during Colorado Gives Day. Just visit The Yampa Valley Gives Website and select the Boys and Girls Clubs of Northwest, CO. Give Where You Live this Holiday season!
To everyone who has given their time, talents, and resources to the Clubs this year, we say Thank You! And we ask that you will continue to partner with us in 2016.
Mind. Body. Soul.
We are the Boys and Girls Clubs of Northwest, Colorado